This article on the Tennis Database Wiki is a stub.
It's lacking/missing some information.
You can help the wiki by expanding it.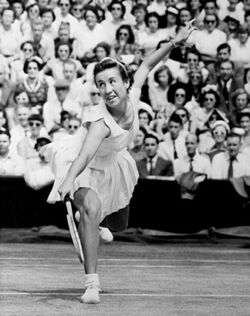 Maureen Catherine Connolly-Brinker (née Connolly; September 17, 1934 – June 21, 1969) known as "Little Mo", was an American tennis player who won nine Grand Slam singles titles in the early 1950s and became the first women to win all four Grand Slam tournaments during the same calendar year in 1953.
Externally links
Edit
Ad blocker interference detected!
Wikia is a free-to-use site that makes money from advertising. We have a modified experience for viewers using ad blockers

Wikia is not accessible if you've made further modifications. Remove the custom ad blocker rule(s) and the page will load as expected.