Jennifer Capriati
Country
USA
Biographical Information
Birthplace
New York City, New York, USA
Residence
Wesley Chapel, Florida, USA
Physical Information
Gender
Female
Height
5 ft 7 in (1.70 m)
Tennis Information
Plays
Right-handed
Career prize money
$10,206,639
Singles
Career Record
430–176
Career titles
14
Highest ranking
No. 1 (October 15, 2001)
Grand Slam results
Australian Open
W (2001, 2002)
French Open
W (2001)
Wimbledon
SF (1991, 2001)
US Open
SF (1991, 2001, 2003, 2004)
Olympic Games
1st place (Gold medal) (1992)
Doubles
Career Record
66–50
Career titles
1
Highest ranking
No. 28 (March 2, 1992)
Grand Slam Doubles results
Last updated on
23 August, 2011.

Jennifer Marie Capriati (born March 29, 1976) is an American former professional tennis player, born in New York City, New York, USA. Injuries and surgeries, halted her tennis career.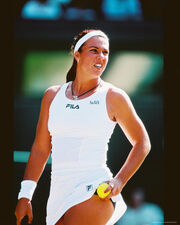 Hailed as a tennis phenomenon at the age of 13, she turned professional in 1990 and went on to win a gold medal at the Barcelona Olympics in 1992. In 1994 personal problems resulted in an extended break from tennis, but in 2001 she made a successful comeback, winning the French Open and Australian Open singles titles that year. She retained the Australian title in 2002. In 2005 she had a world ranking of number 10 but a shoulder injury has since kept her out of the game.
Ad blocker interference detected!
Wikia is a free-to-use site that makes money from advertising. We have a modified experience for viewers using ad blockers

Wikia is not accessible if you've made further modifications. Remove the custom ad blocker rule(s) and the page will load as expected.