All time standings
Edit
Last Champions
Edit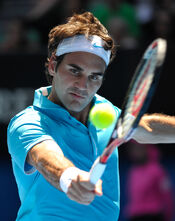 Year
Event
Winner
Runner-up
Score in final
2010
Men's Singles
Roger Federer
Andy Murray
6:3, 6:4, 7:611
2010
Women's Singles
Serena Williams
Justine Henin
6:4, 3:6, 6:2
2010
Men's Doubles
Bob Bryan
Mike Bryan
Daniel Nestor
Nenad Zimonjić
6:3, 6:75, 6:3
2010
Women's Doubles
Serena Williams
Venus Williams
Cara Black
Liezel Huber
6:4, 6:3
2010
Mixed Doubles
Cara Black
Leander Paes
Ekaterina Makarova
Jaroslav Levinský
7:5, 6:3
2010
Boys' Singles
Tiago Fernandes
Sean Berman
7:5, 6:3
2010
Girls' Singles
Karolína Plíšková
Laura Robson
6:1, 7:65
2010
Boys' Doubles
Justin Eleveld
Jannick Lupescu
Kevin Krawietz
Dominik Schulz
6:4, 6:4
2010
Girls' Doubles
Jana Čepelová
Chantal Škamlová
Tímea Babos
Gabriela Dabrowski
7:61, 6:2
2010
WC Men's Singles
Shingo Kunieda
Stéphane Houdet
7:63, 2:6, 7:5
2010
WC Women's Singles
Korie Homan
Florence Gravellier
6:2, 6:2
2010
WC Quad Singles
Peter Norfolk
David Wagner
6:2, 7:64
2010
WC Men's Doubles
Stéphane Houdet
Shingo Kunieda
Maikel Scheffers
Robin Ammerlaan
6:2, 6:2
2010
WC Women's Doubles
Florence Gravellier
Aniek Van Koot
Lucy Shuker
Daniela Di Toro
6:3, 7:62
2010
WC Quad Doubles
Nicholas Taylor
David Wagner
Peter Norfolk
Johan Andersson
6:2, 7:65
By final appearances
Edit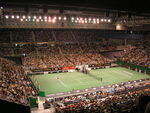 Country
All-time
First title
Last title
Australia
50
1905
1976
United States
18
1908
2003
Sweden
6
1983
2002
Great Britain
5
1912
1934
Switzerland
4
2004
2010
Argentina
2
1978
1979
Czechoslovakia
2
1989
1990
Germany
2
1991
1996
New Zealand
2
1906
1909
Russia
2
1999
2005
Czech Republic
1
1998
France
1
1928
Serbia
1
2008
South Africa
1
1981
Spain
1
2009

Country
All-time
First title
Last title
Australia
43
1922
1978
United States
22
1938
2010
Germany
4
1988
1994
Great Britain
3
1935
1972
Yugoslavia
3
1991
1993
Switzerland
3
1997
1999
Czechoslovakia
2
1980
1987
France
2
1995
2006
Belgium
1
2004
Russia
1
2008
Television Broadcasting
Edit
The Seven Network is the host broadcaster in Australia, they televise all day and night sessions for the duration of the tournament. Other Networks are Fox Sports Australia (Australia), ESPN2, ESPN3, the Tennis Channel (America), Eurosport (Europe), BBC and BBC 2 (United Kingdom), ESPN International (Central and Latin America), ESPN Star Sports (Asia), Wowow (Japan), Shanghai TV (China). The Australian Open is the least televised Grand Slam event because of a time zone differences between Australia and the large population of North and South America. The men's/women's finals start at 7pm local time on Sunday/Saturday which is 3am EST Saturday/Sunday. The Australian Open Final for men is traditionally one of the most watched sports events in Australia.
Other articles
Edit
Ad blocker interference detected!
Wikia is a free-to-use site that makes money from advertising. We have a modified experience for viewers using ad blockers

Wikia is not accessible if you've made further modifications. Remove the custom ad blocker rule(s) and the page will load as expected.