Andre Agassi
Country:
USA
Biographical Information
Born:
29 April, 1970
Birthplace:
Las Vegas, Nevada, U.S.A
Residence:
Las Vegas, Nevada, U.S.A
Physical Information
Gender:
Male
Height:
1.80 m (5 ft 11 in)
Turned pro:
Turned pro
Tennis Information
Plays:
Right-handed
Career prize money:
US$31,152,975
Singles
Career Record:
870-274
Career titles:
60 according to the ATP, 68 in total
Highest Ranking:
No. 1 (10 April, 1995)
Current Ranking:
retired
Grand Slam results
Australian Open:
W (1995, 2000, 2001, 2003)
French Open:
W (1999)
Wimbledon:
W (1992)
US Open:
W (1994, 1999)

Other tournaments

Tour Finals:
W (1990)
Olympic Games:
W (1996)
Doubles
Career Record:
40-42
Career titles:
1
Highest Ranking:
No. 123 (17 August, 1992)
Current Ranking:
retired
Grand Slam Doubles results
Australian Open:
-
French Open:
QF (1992)
Wimbledon:
-
US Open:
1R (1987)

Other tournaments

Olympic Games:
-
Last updated on: 17 August, 2011.
Andre Kirk Agassi is a retired professional tennis player, born on April 29, 1970, in Las Vegas, Nevada. A stellar athlete, Agassi first burst on the tennis scene in 1986. He turned heads and raised eyebrows with his wild hair and bright clothing. But it was his impressive serve that really wowed tennis fans. It took him several years, however, to live up to his potential on the court. He won his first Grand Slam title in 1992 at Wimbledon. After his Wimbledon win, Agassi had several more Grand Slam victories in the early 1990s. He took the top spot at the U.S. Open in 1994. He was victorious at the Australian Open in 1995. He stood at the top of rankings in 1995.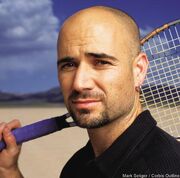 After a depressing career slump in 1997, the once rebellious Agassi got serious and rededicated himself to the game. He trained hard and made an impressive comeback. In 1999, he won the French Open and the U.S. Open. He continued his winning ways at the Australian Open in 2000, 2001, and 2003. Admired by fans and competitors alike, Agassi retired on September 4, 2006, after his last match at the U.S. Open, which he lost to Benjamin Becker. At the end of the match, Agassi said an emotional good-bye to the game and to the roughly 23,000 people who had packed the stadium to see him play for the last time.
In his post-professional life, Agassi continues with his philanthropic work. He created the Andre Agassi Charitable Foundation in 1994, which provides at-risk children in southern Nevada with educational opportunities and recreational activities. He plans on devoting more time to family. Agassi has been married to fellow tennis great Steffi Graf since 2001, and the couple has two children. He was previously married to actress Brooke Shields from 1997 to 1999.
Ad blocker interference detected!
Wikia is a free-to-use site that makes money from advertising. We have a modified experience for viewers using ad blockers

Wikia is not accessible if you've made further modifications. Remove the custom ad blocker rule(s) and the page will load as expected.